The GS Apollo is a semi-modular subtractive synthesis analog synthesizer. The sound is generated in a totally analog way, with two voltage controlled oscillators (VCO), a mixer (mixer), a voltage controlled filter (VCF) and a voltage controlled amplifier (VCA). The control signals are digitally generated by a microcontroller, which is capable of processing three low-frequency oscillators (LFO) and two envelopes (EG) of the ADSR type. In addition, it incorporates an effects processor with chorus and delay.
La interfaz del GS Apollo fue diseñada para que resulte simple e intuitiva. Posee 21 perillas, 3 pulsadores y 5 entradas de CV. Permite generar una gran variedad de sonidos. En la figura 2 se muestra un diagrama en bloques funcional.
Laterales de madera maciza en opciones guatambú o cedro, lustre y terminación natural.
Polyphony: Monophonic, last note priority / Duophonic, lowest note priority and
la última
Oscillators 2 voltage controlled analog oscillators (VCO) with sub oscillators.
Waveforms Triangular / Saw-Tri / Sawtooth / Pulse
Filter (VCF) 24dB / Oct low pass filter (4 poles) with resonance control.
2 * envelopes (Attack, Decay, Sustain, Release)
LFO 3**
Delay Effects, Chorus
Waveforms LFO Triangular / Ramp Up / Ramp Down • Square
Presets 32
CV inputs/Gate /Gate /Pitch /Cutoff /Amp Gain /Audio Input
Connections MIDI IN MIDI OUT MIDI Thru , Audio Output (1/4 "TRS balanced plug) USB (with galvanic isolation)
Power Supply DC 12V 1A
Consumption 6 W
Package Dimensions 330mm x 140mm x 81mm
Package Weight 1.6 kg
Package Dimensions (con 398mm x 207mm x 168mm embalaje)
Package Weight (con embalaje) 2.0 kg
* From the panel it is only possible to control both envelopes simultaneously. To control them independently the corresponding MIDI CCs must be used.
** Only one LFO is controllable from the panel. To access the other LFOs, the corresponding MIDI CCs must be used.
The payment options are: debit card through
Getnet or Mercado Pago with the button below. We also accept payments in foreign currency by Paypal, and cryptocurrencies. If you want to use this last payment method, we suggest you contact us at info@gsmusic.com.ar and / or for any other questions, and by private message on our social networks.
Free shipping by Mercado Envíos throughout the country.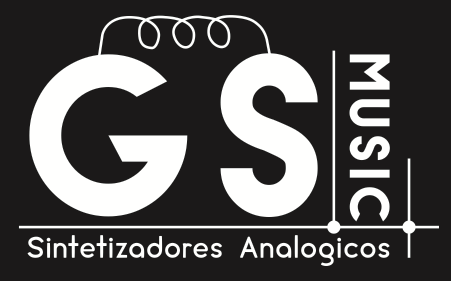 Junin 658, local 357, CABA, Buenos Aires, Argentina